Musikkteaterforum med John Bucchino
Musikkteaterforum og NOPA ønsker velkommen til en generøs kveld på Victoria Nasjonal Jazzscene. Møt den kritikerroste New York baserte komponisten og librettisten JOHN BUCCHINO i samtale med komponist/librettist/regissør Johan Osuldsen.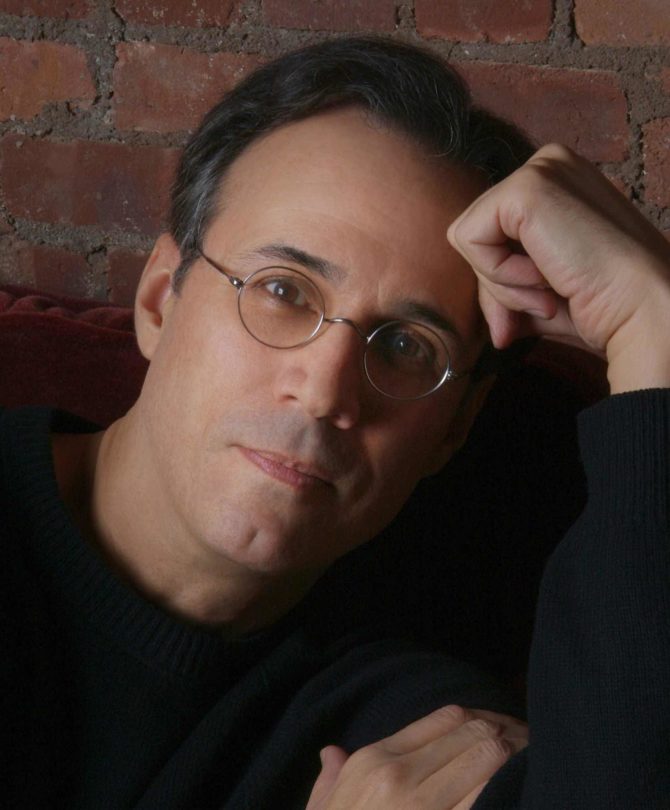 Osuldsen vil gi publikum et blikk inn i Bucchinos virke som internasjonal komponist og librettist. John søker å dele av sine erfaringer, og det oppfordres til spørsmål fra salen.
Under kveldens andre del får du servert norgespremieren på Bucchinos Musical revue "IT´S ONLY LIFE", toppet med et stjernelag av Norges beste scenekunstnere, og Bucchino selv ved tangentene.
Program for kvelden:
18.00: Dørene åpner på Victoria Nasjonal Jazzscene.
19.00: Samtale John Bucchino, Johan Osuldsen og salen.
20.00: Pause.
20.30: "It´s Only Life" in consert.
Billetter:
MTF/NOPA medlem: kr. 150,-
Andre: kr. 200,-
Billetter kjøpes på Billettservice: http://www.billettservice.no/event/its-only-life-john-bucchino-billetter/483463
Ønsker du å sende inn forhåndsspørsmål til John Bucchino? Send en mail til: henriette@musikkteaterforum.no
---
John Bucchino Bio:
John Bucchino's songs have been performed and recorded by renowned pop (Art Garfunkel, Judy Collins), theatre (Liza Minnelli, Patti LuPone, Kristin Chenoweth, Brian Stokes Mitchell, Audra McDonald), cabaret (Barbara Cook, Michael Feinstein), and classical (Yo-Yo Ma, Deborah Voight, Nathan Gunn), artists as well as The Boston Pops, the Los Angeles Philharmonic and the Mormon Tabernacle Choir in venues including Carnegie Hall, The Metropolitan Opera, The Hollywood Bowl, The Kennedy Center, The Sydney Opera House, London's O2 Arena and The White House.
Among his honors are two Drama Desk nominations, The Johnny Mercer Songwriter Award, The ASCAP Foundation Richard Rodgers New Horizons Award, The Jonathan Larson Award, The Kleban Award, The Los Angeles Ovation Award (for the revue IT'S ONLY LIFE), The DVD Premiere Award (for the song "Better Than I"), and the first annual Fred Ebb Award.
He has written music and lyrics for the Broadway musical A CATERED AFFAIR (nominated for 12 Drama Desk Awards, and winner of the New York Drama League Award for Best Musical, with a book by Harvey Fierstein), as well as the musicals URBAN MYTHS, LAVENDER GIRL, the new Danish musical ESAURA, the revue IT'S ONLY LIFE, and the Dreamworks animated film JOSEPH, KING OF DREAMS, and wrote the lyrics for the children's musical SIMEON'S GIFT (with a book by Julie Andrews and Emma Walton Hamilton and music by Ian Fraser). Some recordings of his work are: GRATEFUL, THE SONGS OF JOHN BUCCHINO (with companion songbook), SOLITUDE LESSONS, ON RICHARD RODGERS' PIANO (solo piano interpretations of Rodgers' songs on the composer's own Steinway, voted Best Instrumental CD by Show Business Weekly), the Australian release, DAVID CAMPBELL SINGS JOHN BUCCHINO which reached number one on the Australian jazz chart, and the PS Classics releases of the cast albums of IT'S ONLY LIFE (with companion songbook) and A CATERED AFFAIR. As part of their Julie Andrews Collection, Harper Collins published a children's book, based on John's song, called "Grateful, A Song of Giving Thanks" which was awarded the Parents' Choice Gold Award.
John Bucchino: www.johnbucchino.com
Press Quotes:
– "A new American pop master… Bucchino merges the artfulness and sophistication of America's master songwriters (Irving Berlin, Jerome Kern, Cole Porter, George Gershwin) with the contemporary style and plaintive folk quality of the top singer/songwriters who emerged in the 1970s, such as Carole King and James Taylor." The Houston Chronicle.
– "If Tennessee Williams was alive and writing tunes he'd be John Bucchino." Rex Reed, The New York Observer.
– "John Bucchino's compositions are some of the most beautiful musical theatre music ever heard in a Danish theatre." Thomas Juul, The Fredericia Daily.
– "Mr. Bucchino possesses a singular voice and an absolute integrity of expression." Barry Singer, The New York Times.
IT'S ONLY LIFE, A New Musical Revue. Music and Lyrics by John Bucchino. Conceived by Daisy Prince & John Bucchino. Presented by special arrangement with R&H Theatricals Europe. Originally Directed by Daisy Prince. World Premiere Rubicon Theatre Company June 21, 2008. Originally Presented Off-Broadway at SPF-04.
MUSICAL is presented through special arrangement with R&H Theatricals Europe: www.rnh.com.
http://www.rnh.com/