How to write songs by yourself – Autumn Rowe (ENG)
Bli med på digital workshop!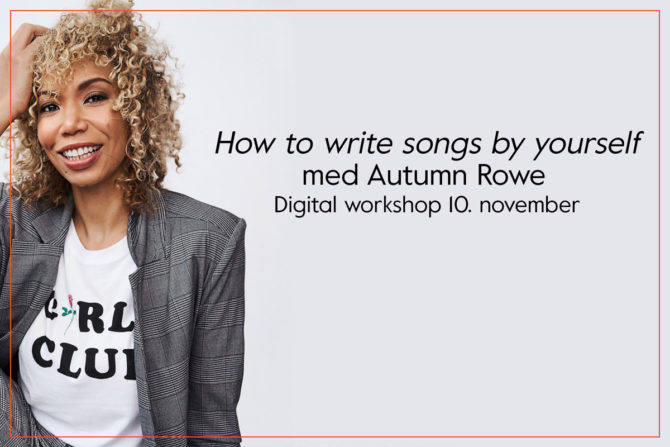 Arrangementet er gratis og åpent for alle som vil følge digitalt via Facebook.
Welcome to NOPAs workshop "How to write songs by yourself" with Autumn Rowe!
This workshop will be digital and free!
When: Wednesday 10th November – 18:00 – 19:30
This seminar is for songwriters who are typically in sessions with producers and have not written songs without producers.
Autumn Rowe will show writers how just with some very simple tools like Splice and Abelton, pretty much anyone can write music at home alone.
Rowe can also give an example of how she did her first producer session and created a track in 15 minutes using the techniques in this workshop and actually placed the record with Atlantic Records!
Autumn Rowe claims that she is not a great musician or very technical but she don't have to be anymore to create music. Songwriter are far too often limited and dependent on other people to create.
This workshop hopes to inspire creativity without limitations and give writers a sense of empowerment and independence.
Also want to note, for any songwriters who don't have a DAW, just about all of them are offering 90 day free trials. So this might be a good opportunity for some writers to try one out.
About Autumn Rowe:
Autumn Rowe is a Singer/Songwriter/Producer/DJ from New York. Growing up in the South Bronx, she applied her musical talents in a range of roles, from band leader to session singer.
Later, she became a sought after songwriter, working with some of the world's biggest artists and record labels. She wrote the dance anthem behind the 2011 FIFA World Cup "Happiness" featuring Alexis Jordan, and has worked with Dua Lipa, Stargate, Ava Max, Jon Batiste, Friction, Naia Izumi, Jax Jones, Netsky, MK, Avicci, Zedd, Alesso, AfroJack, Deadmau5, Alex Newell, Leona Lewis, Digital Farm Animals, Boy George, Jon Bellion, The Knocks, Nick Jonas, Kali Uchis, Kacy Hill, Fifth Harmony, Rodney Jerkins, Sinead Harnett, Fka Twigs, Lindsey, Stirling, Becky G, and Macy Gray, among many other artists.
Autumn performs as the DJ act AFTR PRTY. She is currently signed to Stellar/Sony ATV as a writer and Ultra Records as an artist.
Autumn is also a celebrated vocal coach. She appeared on season 2 of The X Factor, and as the only vocal coach on America's Got Talent for five years, between the show's eight and twelfth seasons. She has coached artists including America's Got Talent winner Grace VanderWaal, Fifth Harmony, Bea Miller, Arin Ray, Carly Rose Sonenclar and Diamond White.
Currently living in Los Angeles, Autumn continues to write and mentor both established and emerging artists. She most recently collaborated with Jon Batiste, Ava Max, Naia Izumi, Tkay Maidza, and P!nk, while continuing to work on her own projects as an artist and producer.